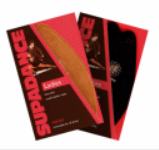 Replacement soles for ladies shoes £8.50 excl.VAT

Replacement soles should be glued on over your old soles to provide fresh, non slip feel to the floor. The soles are cut with pointed front, so are not suitable for teaching shoes. For teaching shoes order 'Replacement soles for mens shoes' (next item), which are the same thing, just slightly bigger.

We can add up to 2 packs of replacement soles per pair of shoes without increasing the shipping cost. So if you order 1 pair of shoes and 2 packs of replacement soles we will remove the shipping fee added by replacement soles before we process payment. You pay the same shipping as on 1 pair of shoes only.