---

Why can not I dance in my normal street shoes?

Dancing in your normal street shoes is not forbidden (in most places) but by doing so you instantly make it harder for yourself to use your feet properly and put yourself in disadvantaged position. That's because no normal street shoes are so soft as dance shoes and you won't be able to use your feet to the best of their ability. Additionally dance shoes have suede soles which provide just the right amount of slipping so you will slip enough to dance, but you won't slip and fall over.

Some more respectable dance studios, which have installed expensive sprung floors will not allow stepping on them in anything else other than clean dance shoes that have not been worn outdoors.

Back to top
---

What shoe size shall I order? My normal street shoe size, bigger or smaller?

The general answer is: Yes, you should order your normal street size, unless otherwise stated. Some particular shoe models make exception from this rule, but this will be explained when you come across such shoe. British manufacturers make shoes according to British sizing, European makers use European sizing and there are also American and Japanese sizing systems, but all these can be relatively easily translated to one another using this shoe size conversion chart

Back to top
---

My feet are wider (narrower) than average. Does anyone make shoes for me?

Yes, most companies do wide and narrow fitting in their most popular models. The undisputed market leader in wide and narrow fitting is International Dance Shoes factory, who can make almost any of their models in Wide, Extra wide or Narrow fitting.
International: Any model can be made in Wide, Extra Wide, Narrow, Extra Narrow verion
Supadance: Selected most popular models are made in Wide version, very few in Extra Wide
DSI: All their regular shoes seem to be a little wider than those from other companies, Wide fittings also avaialble on some most popular models.
Tango OK: Any models can be made in Wide or Narrow. No Extra Wide, though.
DANsport: Only a few of the most popular models come in Wide.
See Fittings explained for more precise description of Wide and Narrow fittings

Back to top
---

My male partner is much taller than me, shall I take very high heels?

Definitely not. Do not take heels higher than you can comfortably dance in. The higher the heels, the harder it is to dance in them and the stronger and more flexible ankles you need. That will come with time and practice, but in the meantime take heels no higher than you can comfortably dance in. Having them too high for your dance experience you may add half an inch to your height, but you will loose a mile in your dancing quality. Very bad deal overall.

Back to top
---

Can you explain the difference between slim, flared, cuban, spanish and other heel styles?

Every manufacturer offers a slightly different portfolio of available heels, but the trends are similar across the board.

Slim heels is what used to be worn by ladies dancing Ballroom or Latin-american dances for decades. These heels are not so slim in the upper part and they got a little out of fashion nowadays.

Flared (flare/fleur) heels were first invented by International Dance Shoes and called IDS heels. Other manufactures followed through and made their versions calling them Flare/Fleur/Flare etc. These heels are slightly wider near the bottom, which makes balancing a little easier.

Stiletto heels look very sexy, but they are ultra slim and you have to have a very good sense of balance to dance in them.

If you are not used to wearing high heels and find dancing in them difficult - wear 2" ladies cuban (spanish) heel. They are wider and much easier to balance yourself.

Men typically wear 1" low heels for Ballroom and 1.5" cuban heels for Latin-American. If you however feel strange in 1.5" heels, you can wear 1" low heels for Latin too.

In Girls shoes the two commeon heel types are 1.25" cuban (wider than higher) and 1.5" junior (higher than wider, but not as slim as ladies adult shoes). Boys shoes are all made on 1" low heels.

Here are heels used in International dance shoes: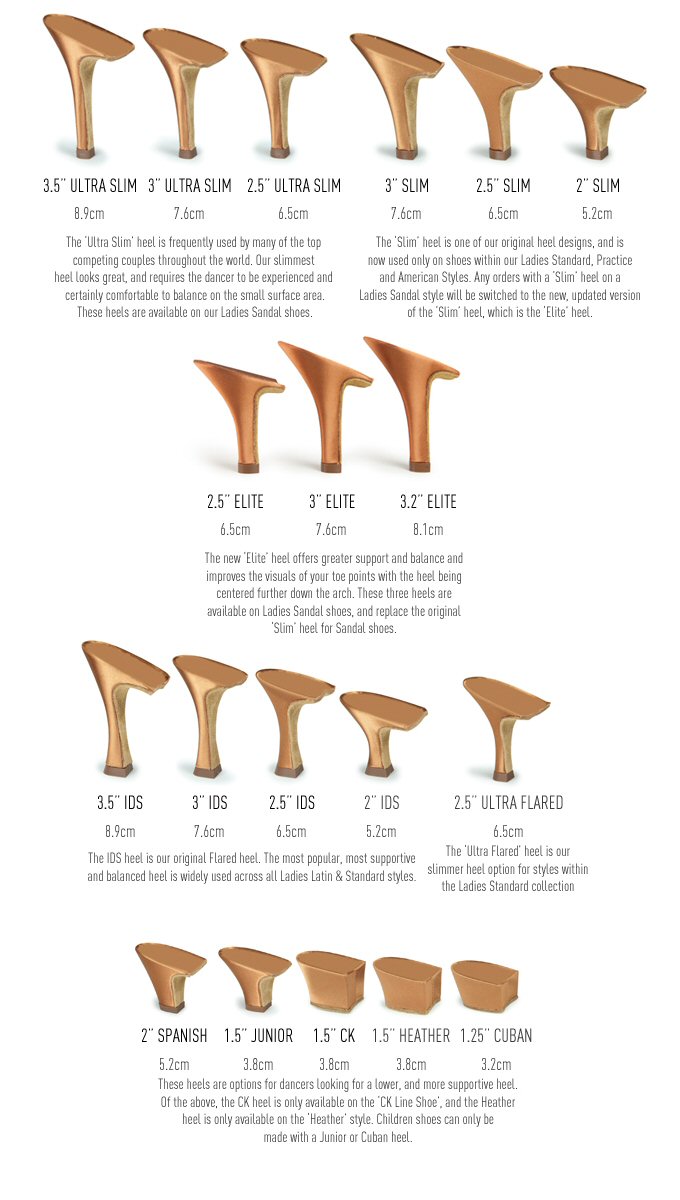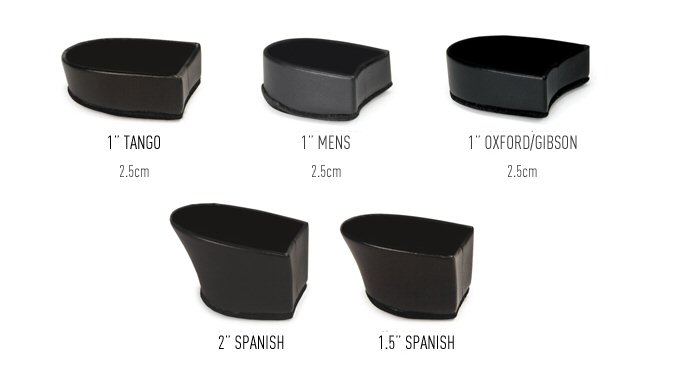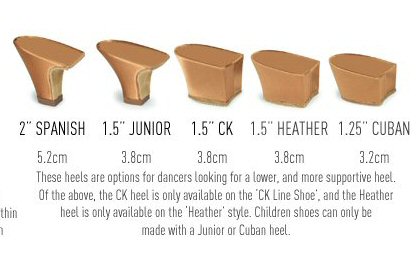 Back to top
---
How should you measure the heel height?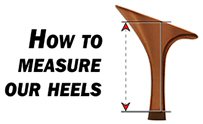 Most shoe manufacturers measure the heel height in the centre, excluding the heel tip. If you measure the heel at the back you will obtain a higher reading. (the higher the heel the bigger difference that will be).

For example:
the very popular 2.5" heels measured at the back will show around 2.7"-2.8" height
3" heels measured at the back may show 3.3"-3.5" depending on the exact heel model
Back to top
---

What is better? Suede soles or leather soles?

For Ballroom and Latin-American dancing everyone uses suede soles. Shoes on suede soles are flexible and allow you to shape your feet to the extreme.

However if you dance Argentine Tango you may prefer leather soles. Leather soles are harder than suede soles and do not bend as much, but because of that they provide more support and your feet will not get so tired, especially if you want to dance the whole evening. Leather soles work better on rough floors or if you want to dance outdoors. For smooth, slippery floors suedes soles may be a better choice.

Back to top
---

Do the dance shoes stretch naturally?

Yes, dance shoes stretch naturally as you use them. Some materials stretch more than others, specifically:
SUEDE and NUBUCK stretch the most
SATIN stretches less than suede
LEATHER stretches about as much as satin
PATENT (lacquered leather) almost does not stretch
The extend of stretch will depend on how often and how much you use the shoes.

Back to top
---

I am having knee pains while dancing. Do you have any mens shoes with sprung heels?

Yes, there are two mens ballroom shoe styles with sprung heel made by Supadance. These are 2500 Heelflex and 5200 Supaflex. You will find them in Supadance mens ballroom shoes section of our Virtual Shoe Shop.

Back to top
---

I am a lady with UK shoe size 9 (European 43). Does anyone make dance shoes for me?

Most manufacturers make ladies shoes up to UK size 8 only, but we know of two exceptions:
Cindini make ladies shoes in up to UK size 9
Tango OK theoretically make shoes up to European size 42 only, but their open toes ladies sandals come 1 size oversized, therefore if you order size 42 you will practically get size 43.
We still have some shoes in sizes above UK size 8 on our SALE stock page.
Back to top
---

How do I clean satin ballroom shoes?

To clean the uppers: Put some warm water and hand washing liquid into a bowl. Take a sponge and apply the water with washing liquid onto the uppers of the shoes till clean. Leave overnight to let them dry out.

To clean the soles: Use a metal brush (supplied by shoe resellers) to brush off any dirt and dust. I suggest you do it along the shoe sole from the back towards the front, but that's not overwhelmingly important.

Back to top
---