This DVD shows the best 48 couples performing at the British Open Professional Dance Championships, which took place in Blackpool, England Friday 30th May 2008.

The dancing is amazing and you can truly analyze the couples' movements, lead and follow in detail. Spectacular outfits and truly breathtaking show!

Running time: approx 120 min.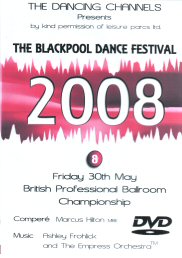 Final:
Mirco Gozzoli and Alessia Betti, Italy
Arunas Bizokas and Katusha Demidova, USA
Jonathan Wilkins and Hazel Newberry, England
Victor Fung & Anna Mikhed, USA
Domenico Soale & Gioia Cerasoli, Italy
Jonathan Crossley and Lynn Marriner, England
Roberto Villa & Morena Colagreco, Italy
Semi-final:
Mikhail Avdeev & Anastasia Muravyova USA
Grant Barratt-Thompson & Mary Paterson
Michele Bonsignori & Monica Baldasseroni
Alexei Galchun & Tatiana Demina
Sascha Karabey & Natasha Karabey
Domen Krapez & Monica Nigro
Giuseppe Magnelli & Francesca Pietramale
Christopher Short & Elisa Chanaa
Stefano Soldati & Annalisa Longo
Ref: 08BL-8 Price £24.95 - SOLD OUT