This DVD shows the best 48 couples performing at the British Open Amateur Dance Championships, which took place in Blackpool, England Thursday 29th May 2008.

The dancing is amazing and you can truly analyze the couples' movements, lead and follow in detail. Spectacular outfits and truly breathtaking show!

Running time: approx 120 min.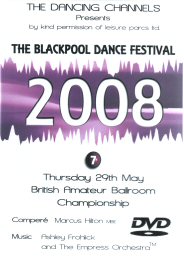 Final:
Paolo Bosco & Silvia Pitton, Italy
Andrea Ghigiarelli & Sara Andracchio, Italy
Benedetto Ferruggia & Claudia Koehler, Germany
Emanuel Valeri & Tania Kehlet, Denmark
Marat Gimaev & Alina Basiouk, Russia
Federico Di Toro & Genny Favero, Italy
Chao Yang & Yiling Tan, China
Semi-final:
Sergei Konovaltsev & Olga Konovaltseva, Russia
Valerio Colantoni & Sara Di Vaira, Italy
Marco Cavallaro & Joanne Clifton, England
Simone Segatori & Annette Sudol, Germany
Wiktor Kiszka & Malgorzata Garlicka, Poland
Ref: 08BL-7 Price £14.95