This DVD shows the best 48 couples performing at the British Amateur Rising Star Latin and Ballroom Championships, which took place in Blackpool, England Sunday 25th May 2008.

The dancing is amazing and you can truly analyze the couples' movements, lead and follow in detail. Spectacular outfits and truly breathtaking show!

Running time: approx 120 min.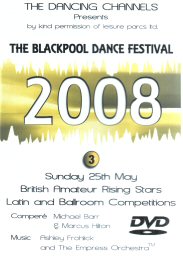 Amateur Rising Star Latin

Final:
Nikita Brovko & Alina Zharullina, Russia
Anton Karpov & Kristina Moshenskaya, Russia
Jannick Löwe & Pia Engelberg Lundanes, Denmark
Anton Sboev & Nataliya Rumyantseva, Russia
Joshua Keefe & Sara Magnanelli, Australia
Dmitriy Sorokin & Nataliya Burmistrova, Russia
Semi-final:
Albert Naydenov & Alena Naydenova, Russia
Ben Hardwick & Lucy Jones, England
Arsen Kishishian & Yuliya Nikitenko, Australia
Andrea De Angelis & Francesca Tocca, Italy
Arkady Bakenov & Rosa Filippello, New Zealand
Alejandro Hernandez & Kerri Ann Donaldson, England
Marek Dedik & Kristina Horvatova, Slovakia
Amateur Rising Star Ballroom

Final:
Angelo Madonia & Jelena Samuilova, Latvia
Dmitry Zharkov & Olga Kulikova, Russia
Markus Hirvonen & Mariia Hirvonen, Finland
Lorenzo Tarabelli & Federica Agostinelli, Italy
Csaba László & Anna Mikes, Hungary
Domenico Cannizzaro & Agnese Junkure, Italy
Francesco Calco & Silvia Stile, Italy
Jack Beale & Viktorija Triscuka, England
Semi-final:
Igor Mikushov & Anna Demidova, USA
Gaetano Iavarone & Emanuela Napolitano, Italy
Evgeniy Zavyalov & Lyudmyla Shvetsova, Russia
Rüdiger Homm & Friederike Tischendorf, Germany
Pasquale Nudo & Manuela Stellato, Italy
Ref: 08BL-3 Price £24.95 - SOLD OUT