This DVD shows the best 48 couples performing at the British Amateur Under 21 Latin Championships, which took place in Blackpool, England Saturday 24th May 2008.

The dancing is amazing and you can truly analyze the couples' movements, lead and follow in detail. Spectacular outfits and truly breathtaking show!

Running time: approx 120 min.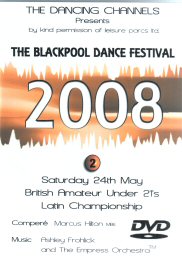 Amateur Under 21 Latin:

Final:
Kirill Belorukov & Elvira Skrylnikova, Russia
Nikita Brovko & Alina Zharullina, Russia
Anton Karpov & Kristina Moshenskaya, Russia
Miha Vodicar & Nadiya Bychkova, Slovenia
Artur Tarnavskiy & Mariya Dyment, Ukraine
Oleg Negrov & Dariya Chesnokova, Ukraine
Semi-final:
Morten Lowe & Zia James, Denmark
Andrea De Angelis & Francesca Tocca, Italy
Evgen Golichenko & Kateryna Krut, Ukraine
Vitaliy Proskurin & Nadiya Kuprava, Ukraine
Tomas Marek & Martina Markova, Czech Republic
Mark Popkov & Marika Doshoris, France
Daniel Falkenberg & Anastasiya Melnikova, Denmark
Ref: 08BL-2 Price £14.95