This DVD shows the best 48 couples performing at the British Professional Rising Star Latin Championships and British Senior Ballroom championship, which took place in Blackpool, England Friday 23rd May 2008.

The dancing is amazing and you can truly analyze the couples' movements, lead and follow in detail. Spectacular outfits and truly breathtaking show!

Running time: approx 120 min.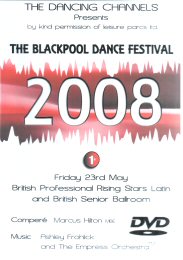 Professional Rising Star Latin:

Final
Dmitry Kurakin & Violetta Kurakina, USA
Julian Manderson & Melanie Hooper, Australia
Ryan Mcshane & Rachael Heron, England
Pavlo Barsuk & Anna Trebunskaya, USA
Gherman Mustuk & Iveta Lukosiute, USA
Aleksandr Ilinykh & Anna Afonenkova, Russia
Jun He & Min Zhang, China
Semi-final:
Cedric Meyer & Angelique Meyer, France
Vladislav Borodinov & Irina Garous, Russia
Vaidotas Skimelis & Jurga Pupelyte, USA
Alessandro Camerotto & Nancy Berti, Italy
Francis Lafreniere & Claudia Primeau (aka Sauve), Canada
Senior Ballroom:

Final
Slawomir Lukawczyk & Edna Klein, Belgium
Stefano Bernardini & Stefania Martellini, Italy
Vladimir Scherbakov & Natalia Ovcharenko, Russia
Tassilo Lax & Sabine Lax (aka Hoffman), Germany
Michael Ruhl & Michaela Ruhl, Germany
Marcello Daga & Marina Pau, Italy
Heinz Josef Bickers & Aurelia Bickers, Germany
Semi-final
Alessandro Brescianini & Annalisa Cominetti, Italy
Joerg Hillenbrand & Ute Hillenbrand, Germany
Eric Voorn & Charlotte Voorn. The Netherlands
Mario Riva & Carmen Riva, Italy
Mirko Francesconi & Milena Cervelli, Italy
Ref: 08BL-1 Price £14.95