This DVD shows the best 48 couples performing at the British Amateur Under 21 Ballroom Dance Championships and British Amateur Latin Championship, which took place in Blackpool, England Wednesday 28th May 2008.

The dancing is amazing and you can truly analyze the couples' movements, lead and follow in detail. Spectacular outfits and truly breathtaking show!

Running time: approx 120 min.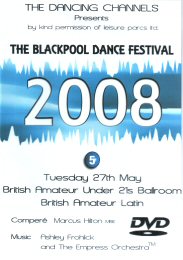 Amateur Under 21 Ballroom

Final:
Markus Hirvonen & Mariia Hirvonen, Finland
Francesco Galuppo & Debora Pacini, Italy
Ivan Novikov & Margarita Klimenko, Russia
Vasiliy Kirin & Ekaterina Prozorova, Russia
Zhi An Wun & Cen Zheng, China
Miha Vodicar & Nadiya Bychkova, Slovenia
Semi-final:
Anton Azanov & Ekaterina Isakovich, Russia
Jack Beale & Viktorija Triscuka, England
Kyle Taylor & Jourdan Stone, England
Jacek Jeschke & Wiktoria Wior, Poland
Andrey Sirbu & Alexandra Hixson, England
Vladimir Rudko & Mariya Ivanova, Russia
Amateur Latin

Final
Matej Krajcer & Iwona Golczak, Slovenia
Stefano Di Filippo & Anna Melnikova, Italy
Jurij Batagelj & Jagoda Strukelj, Slovenia
Alexei Silde & Anna Firstova, Russia
Evgeni Smagin & Polina Kazatchenko, Russia
Zoran Plohl & Tatsiana Lahvinovich, Croatia
Semi-final
Valentin Chmerkovskiy & Valeriya Kozharinova, USA
Martino Zanibellato & Michelle Abildtrup, Denmark
Przemek Lowicki & Asta Sigvaldadottir, Poland
Andrei Zaitsev & Anna Kuzminskaja, Russia
Dorin Frecautanu & Roselina Doneva, Moldova
Nino Langella & Nataliya Maidiuk, Italy
Ref: 08BL-5 Price £14.95