This DVD shows the best 48 couples performing at the British Senior Latin Championships and British Professional Rising Star Ballroom Championship, which took place in Blackpool, England Wednesday 28th May 2008.

The dancing is amazing and you can truly analyze the couples' movements, lead and follow in detail. Spectacular outfits and truly breathtaking show!

Running time: approx 120 min.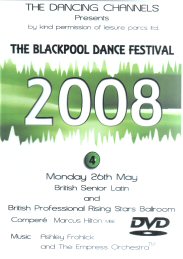 Senior Latin:

Final:
Petri Jarvinen & Ulla Jarvinen, Finland
Evgeniy Filatov & Irina Mokhova, Russia
Roberto Hernandez & Beatriz Perez, Spain
Slawomir Lukawczyk & Edna Klein, Belgium
Massimo Regano & Silvia Piccirilli, Italy
Hans-Juergen Gross & Martina Gross, Germany
Semi-final:
Jordi Mayral & Eva Aguilera, Spain
Claus Wolfer & Beatrix Leibfried, Germany
Manuel Ramirez Moreno & Julia Lopez Perez, Spain
Michael Sawang & Claudia Sawang, Germany
Martyn Long & Elaine Long, England
Georg Bröker & Susanne Schantora, Germany
Professional Rising Star Ballroom

Final
Mikhail Avdeev & Anastasia Muravyova, USA
Isaia Berardi & Cinzia Birarelli, Italy
Christopher Short & Elisa Chanaa, England
Egor Abashkin & Katya Kanevskaya, USA
Kota Shoji & Nami Shoji, Japan
Thomas Papkala & Frantsiska Yordanova, USA
Lucas Chockuba & Paulina Malinowska, USA
Daniele Pardini & Paola Rosi, Italy
Semi-final
Ruslan Golovashchenko & Olena Golovashchenko, Ukraine
Alex Hou & Melody Hou, Taiwan
Mauro Favaro & Angelina Shabulina, Italy
Richard Perry & Natalie Perry, New Zealand
Ref: 08BL-4 Price £14.95