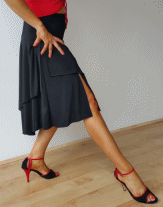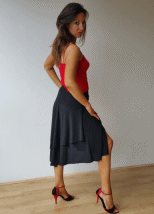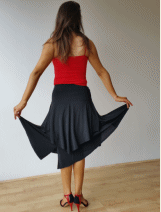 E-S080 Two layers, Three splits Latin/Tango skirt £39.00 excl.VAT

Soft in touch, stretch crepe. The skirt is made of two layers and has three splits: 1. Over the right knee in the bottom layer 2. Over the left hip in the top layer 3. At the back, centrally in the bottom layer.

The back side is slightly longer and points down in the centre where the split is. Length from 68cm at front to 80cm at the back. (27in - 31.5in). Elasticated waist. Available in UK size 8 - 16. It can also be made to your size.