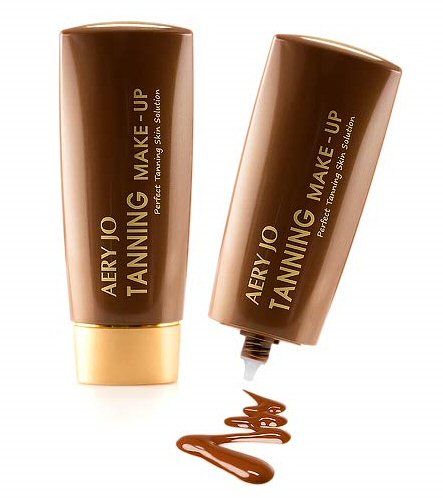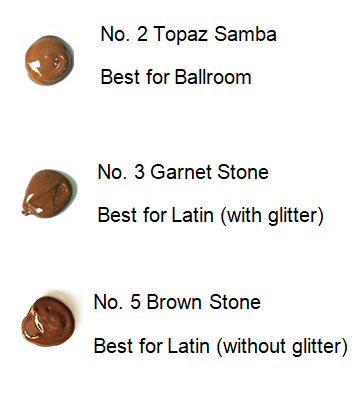 AJ-001 Aery Jo Tanning Make-Up - Price £30.00 excl.VAT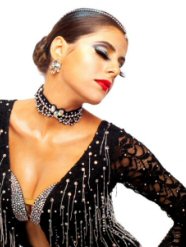 Dancers are switching to Aery Jo for a reason: It does not rub on your clothes, it is waterproof so you can sweat as much as you like in it and it does not leave any smudge on your body! In this regard it beats all tanning products currently known on the market!

Color No 2 Topaz Samba This heightened brown tone with diamond gold pearl adds an outstanding, sexy sheen to your to your skin. Recommended for Ballroom dancers who do not need to tan the skin very dark.

Color No 3 Garnet Stone is the Deep Brown body foundation with golden pearl shade gives the skin a natural- looking healthy suntanned glow. With the beautiful diamond pearl pigments, this Dance Tanning Make Up gives you sensational shiny look under the stage light. Once the tanning make up dries up on your skin, it doesn't smudge under water or sweat and doesn't easily stain the garments. It is easy to cleanse with soap or foaming cleanser. Recommended for Latin dancers who tan the face darker than Ballroom dancers.

Color No 5 Brown Stone is the same colour as No.3 Garnet Stone, however without any golden pearls (without any glitter). Recommended for Latin dancers who tan the face darker than Ballroom dancers.

For larger areas where faster application is important we also recommend Sex Symbol Aerotan which is a very similar product, but it is in spray.

How to Use Aery Jo Tanning Make-up

PREPARATION
Do not apply Tanning Make Up when your skin is sweat or the body is hot, as the tan won't dry properly. The skin must be clean and dry before applying.

APPLYING
Rub Quickly and Widely - When you apply it on your back, squeeze the liquid enough to fill your partnerís palm. When you apply it on your arms and legs, squeeze it to fill 1/4 of your palm. Apply it by using your hand because your palm is warm. Rub quickly and widely to avoid smudge.

DRYING
It takes 15 - 20 min to dry. You can however use a hairdryer to shorten this time. After it is dry, you can wear the clothes and the tan will not stain them even if you sweat a lot!

CLEANSING
Cleansing - Easy to Clean with Soap or Foaming Cleanser and water. Should there be any leftovers wipe them out with Eye make-up remover.