Christy and George's teaching is clear and precise and their dancing is exquisite. The instruction is completely in English and is professionally produced in an organized one-on-one format like a private lesson, making this video/DVD clear and easy to comprehend.

All figures on this videos/DVDs are demonstrated as the Leader, as the Follower and together. The stage is large enough to show complete patterns.

This collection is highly recommended for dancers taking up authentic Argentine Tango, as well as for experienced tango dancers as a refresher course.

The Volcada is one of the most popular elements of Argentine Tango. This challenging development, which takes the follower out of her vertical axis and "spills" her into a carpa (tent) or "leaning" position, is explored from its simplest form all the way to a Volcada-Colgada combination sure to challenge even the most experienced dancers. 19 figures in all!

We recommend Christy & George's Argentine Tango in Carpa with Volcadas (DV-DATCC122) as the precursor to Strictly Volcadas.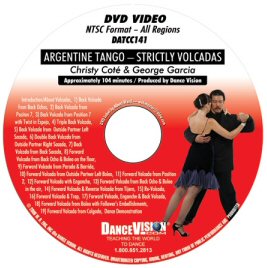 Introduction - About Volcadas
Back Volcada from Back Ochos
Back Volcada from Positon 7
Back Volcada from Position 7 with Twist in Espejo
Triple Back Volcada
Back Volcada from Outside Partner Left Sacada
Double Back Volcada from Outside Partner Right Sacada
Back Volcada from Back Sacada
Forward Volcada from Back Ocho & Boleo (on the floor)
Forward Volcada from Parada & Barrida
Forward Volcada from Outside Partner Left Boleo
Forward Volcada from Position 2
Forward Volcada with Enganche
Forward Volcada from Back Ocho & Boleo (in the air)
Forward Volcada & Reverse Volcada from Tijera
Re-Volcada
Forward Volcada & Trap
Forward Volcada, Enganche & Back Volcada
Forward Volcada from Boleo with Follower's Embellishments
Forward Volcada from Colgada
Dance Demonstration
Running time: Approx. 104 min.

Strictly Volcadas - Price £29.95 Ref: DV-DATCC141
---