SUPADANCE
Supadance is historically the first and probably still the biggest manufacturer of dance shoes. Supadance shoes offer unrivalled comfort. Not surprisingly they have been chosen by many world champions... Indeed, the shoe quality is very high, you can not fault them. Price wise they are not the cheapest, but when it comes to the comfort of your feet - it is definitely money well spent.

The Supadance range is very wide, unfortunatelly should you require some less common model-heel-colour combination as a special order - it may take a long time (6-8 weeks). Combinations not listed are not available at all, not even as special orders.


Supadance Heel guide
When measuring the heel height Supadance do it in the middle of the heel vertically down (excluding the heel tip). If you measure the heel at the back you will obtain slightly higher reading (the higher the heel the bigger the difference will be).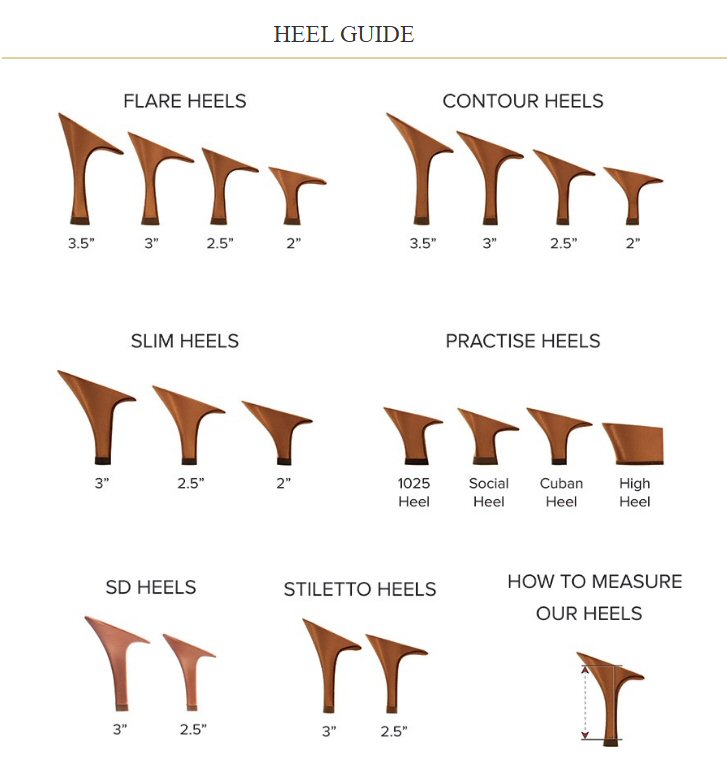 Supadance Buckle types


Any Supadance shoes that come with buckles can come with either

Traditional buckles - this buckle has to be fastened every time you put the shoe on and unfastened every time you take the shoe off.


Quick release hook buckles - this buckle is adjusted and fastened on the strap only once. When you put the shoes on, place the ankle strap into the hook ABOVE the buckle. It will then slide very slightly and stop on the buckle. To release the buckle remove the strap from from the hook in a movement opposite to putting it in.

The hook buckle is as secure as the traditional buckle. There is absolutely no danger it may release during the dancing.




Quick release hook buckle
---
This page is part of and should be viewed in the frame context of Virtual Shoe Shop