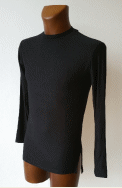 E-MS086 Ultra soft, Stretch cotton, Loose Practice Top £35.00 excl.VAT

Ultra soft, round neck, loose practice top made in stretch cotton. Not only for dancing, but also for many other fitness routines and exercises.

The sizes are given below when the fabric is completely unstretched. Every size will stretch by up to 3 inch.