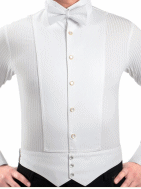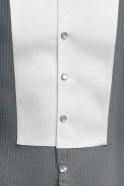 RS-NERO Nero Easy button Stretch competition shirt £79 excl.VAT

Nero shirt is designed to be worn with a tailsuit. Built on shorts it is a competition shirt with buttons attached to the shirt, so you are never in danger of losing them. Collar not included. You need to buy a collar separately. Very stretchy.

White and Grey are made with strap texture fabric, Black has no strap texture. All 3 colour versions come with the classic white front.