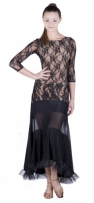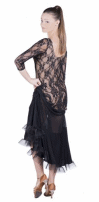 P15120040 3/4 Sleeve Lace Body £45.00 excl.VAT

Exclusive lace and flower print. Low back neck, 3/4 sleeves. Made in body friendly, soft in touch stretch lace lined with Lycra.



P15120044 Lace Trim Long Ballroom Skirt £69.00 excl.VAT

Exclusive and classy Ballroom skirt made of liquid silk, sheer mesh and delicate stretch lace. The hem finished with crinoline enhances your movements. Most eye catching on the floor! The fabric used on top of the skirt is the same fabric as used in the 3/4 sleeve Lace body creating an illusion of a one piece dress. Skirt length 90 cm (35.5").