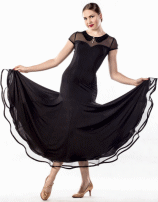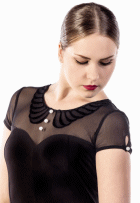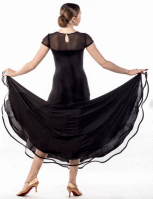 P17120032 Baby collar Ballroom Dress £175.00 excl.VAT

Romantic, full length ballroom dress featuring sheer, cup mesh sleeves and a sheer front design with velvet baby collar and pearl buttons. The skirt is finished with crinoline and double satin ribbon for the touch of glamour. Slim, fitted bodice shows your shapes perfectly and voluminous skirt completes the perfect picture. Skirt length 95cm (37.5"), from shoulder top to hem 143cm (56").

Hand wash or machine wash on "delicates" program.