These are the first DVDs released by Vincent Simone and Flavia Cacace and what a success!

Vincent and Flavia give you the real Argentine Tango knowledge and technique, not just routines to memorise. We are impressed with their teaching skills. Highly recommended.

Argentine Tango Vol. I

Volume One, will take you through several basic moves, step by step, with clear explanations along the way. It covers The Walk, the Salida, Forward Ochoes, Backward Ocheos with Sandwich, Giro to the left, Giro to the right and Gancho. There is also a technique section which you should find very helpful.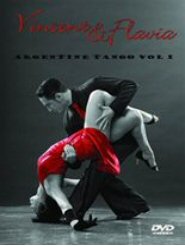 Figures

The Walk
Salida
Forward Ochoes
Backward Ocheos with Sandwich
Giro to the left
Giro to the right
Gancho

Technique

The hold
Footwork
Musicality
Leading and following
Gancio technique
Giro technique

Price £29.95 Ref: VF1 - SOLD OUT


---
Argentine Tango Vol. II

The second DVD, Volume Two, will take you through several challenging figures, giving you clear explanations along the way - together with a dedicated section on technique, you will find everything you need to continue the development of your Argentine Tango. It covers Walking Outside Partner, Cross Basic Walk, The Calesita, The Bicicletta, Line and Sacada, and The Sweep.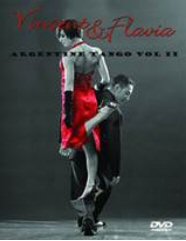 Figures:
Walking outside partner
Cross Basic Walk
The Calesita
The Bicicletta
Line and Sacada
The Sweep
Technique Section
Full Demo

Price £29.95 Ref: VF2


---
Argentine Tango Vol. III - Vals and Milonga

The third DVD, Volume Three wil teach you two other dances also belonging to Argentine Tango family: these are Vals, which is Argentinian equivalent of Waltz and Milonga, a happier version of Tango.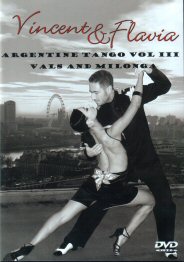 Vals variations:
Media Luna
Caminada
Lady's balanceo with Saccada
Prada
Planeo
Milonga variations:
Box ending with chasse
Traspier
Forward Ochos
The Cradel

Price £29.95 Ref: VF3 - SOLD OUT


---