This DVD may not have a very exciting cover, but never judge a book by its cover!

Inside each DVD box you will find two discs containing THE OFFICIAL, COMPLETE IDTA TECHNIQUE OF BALLROOM DANCING based on the official Guy Howard Technique book. This is basically a visual version of the ever famous Technique Book put to live by David Sycamore and Denise Weavers, five times World and European 10-Dance Champions, former Latin-American Showdance Champions.

A massive amount of work has been put into the preparation, filming and DVD production of this set. As far as we know this has been one of the most expensive instructional Ballroom DVD release of recent years. But it is also THE most important one.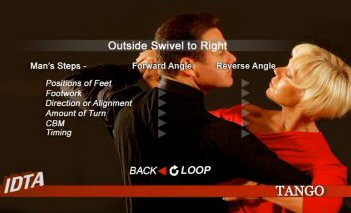 For over 50 years all teachers and aspiring teachers have been studying dancing from the book in the traditional form, where one really has to have a good imagination to visualise the figures from their descriptions. But not any more! What used to take hours then - is now achievable in a couple of minutes when you can SEE how each figure should be danced perfectly, technically speaking.

This DVD set is great for:
Medal students studying for Bronze, Silver and Gold medal
Teachers-to-be as a fundamental source of knowledge in preparation for their professional exams
Qualified teachers as a visual reference book
If you are a member of another dance organisation (there are 7 of them in UK and hundreds worldwide) which uses another Technique Book you can still learn from this DVD with no harm. The content of various Ballroom Technique Books is 99% the same. The worst thing that may happen is that you may find a step in IDTA book which is not included in your organisation's book or you may find an odd step in another book which is not included in IDTA book (very unlikely). But the technique itself is never contradictory between the books.


---
WALTZ
Main Demonstration
Waltz Figures


LF Closed Change
RF Closed Change
Natural Turn
Reverse Turn
Whisk
Chasse from Promenade Position
Natural Spin Turn, Underturned Natural Spin Turn
Natural Turn with Hesitation
Reverse Corte
Back Whisk
Outside Change
Weave in Waltz Time
Closed Telemark, Open Telemark
Open Telemark followed by Wing
Open Telemark followed by Cross Hesitation
Open Impetus Turn
Open Impetus Turn followed by Wing
Open Impetus Turn followed by Cross Hesitation
Open Impetus Turn followed by Weave
Whisk followed by Weave
Underturned Outside Spin
Turning Lock to Left
Reverse Pivot
Progressive Chasse to Right
Backward Lock Step (Man)
Forward Lock Step (Lady)
Double Reverse Spin
Outside Spin
Turning Lock to Right
Left Whisk
Fallaway Natural Turn
Running Spin Turn
Closed Wing
Contra Check

Waltz Basic Principles


The Ballroom Hold
Hold in Promenade Position
Hold in Fallaway Position
Forward Walk
Backward Walk
Closed Turn
Open Turn
Heel Turn
Heel Turn as Lady
Heel Pull
Brush Step as Lady (Step 5 Natural Spin Turn)
Natural Pivot as Man (Step 4 Natural Spin Turn)
Pivoting Action as Lady (Step 4 Natural Spin Turn)

Waltz Figures in more Detail


Whisk followed by Chasse from PP
Natural Spin Turn
Steps 4-9 Open Impetus Turn followed by Weave
Double Reverse Spin
Running Spin Turn

Running time 105 min. approx

Price £29.95 Ref: IDTA-DVDWZ





---
TANGO
Main Demonstration
Tango Figures


Progressive Side Step
Progressive Link
Closed Promenade
Open Promenade
Basic Reverse Turn
Open Reverse Turn Lady in Line
Open Reverse Turn Lady Outside
Progressive Side Step Reverse Turn
Natural Rock Turn
Back Corte
Rock on LF
Rock on RF
Natural Promenade Turn
Natural Promenade Turn to Natural Rock Turn
Natural Twist Turn
Promenade Link
Four Step
Brush Tap
Outside Swivel to Right
Outside Swivel to Left
Reverse Outside Swivel
Fallaway Promenade
Four Step Change
Back Open Promenade
Chase
Oversway
Five Step
Reverse Five Step

Tango Basic Principles


The Ballroom Hold
Hold in Promenade Position
Forward Walk
Backward Walk

Tango Figures in more Detail


Open Reverse Turn Lady Outside
Natural Twist Turn
Outside Swivel to Right
Oversway
Five Step

Running time 100 min. approx.

Price £29.95 Ref: IDTA-DVDBT





---
FOXTROT
Main Demonstration
Foxtrot Figures


Feather Step
Reverse Turn
Three Step
Natural Turn
Closed Impetus Turn
Feather Finish - Feather Ending
Reverse Wave
1-4 Reverse Wave followed by Weave
Change of Direction
Natural Weave
Closed Telemark
Open Telemark
Open Telemark Feather Ending
Open Telemark Passing Natural Turn Outside Swivel Feather Ending
Open Impetus Turn
Open Impetus Turn followed by Weave from PP
Top Spin
Natural Telemark
Hover Telemark
Quick Natural Weave from PP
Natural Twist Turn
Quick Open Reverse Turn
Reverse Pivot
Open Telemark followed by Weave from PP
Hover Cross
Curved Feather - Back Feather
Curved Feather from PP
Fallaway Reverse Turn and Slip Pivot
Lilting Fallaway with Weave Ending
Natural Zig Zag from PP
Extended Reverse Wave
Curved Three Step

Foxtrot Basic Principles


The Ballroom Hold
Hold in Promenade Position
Hold in Fallaway Position
Forward Walk
Backward Walk
Closed Turn
Open Turn
Heel Turn as Man
Heel Turn as Lady
Heel Pull

Foxtrot Figures in more Detail


Reverse Turn
Open Telemark Feather Ending
Quick Natural Weave from PP
Hover Cross
Fallaway Reverse Turn and Slip Pivot

Running time 116 min. approx.

Price £29.95 Ref: IDTA-DVDFT





---
QUICKSTEP
Main Demonstration
Quickstep Figures


Quarter Turn to Right
Natural Turn at a corner
Natural Pivot Turn
Natural Spin Turn
Underturned Natural Spin Turn
Natural Turn with Hesitation
Progressive Chasse
Forward Lock Step
Backward Lock Step
Progressive Chasse to Right
Reverse Turn
Quick Open Reverse Turn
Tipple Chasse to Right at a corner
Tipple Chasse to Right along side of room
Running Finish
Tipple Chasse to Left
Reverse Pivot preceded by Quick Open Reverse Turn
Closed Telemark
Open Impetus Turn
Open Telemark
Passing Natural Turn
Four Quick Run
Running Right Turn
Natural Turn Backward Lock Step Running Finish
V6
Double Reverse Spin
Cross Swivel
Fishtail
Six Quick Run
Hover Corte
Tipsy To Right
Tipsy to Left
Rumba Cross
Running Cross Chasse

Quickstep Basic Principles


The Ballroom Hold
Hold in Promenade Position
Hold in Fallaway Position
Forward Walk
Backward Walk
Closed Turn
Open Turn
Heel Turn as Man
Heel Turn as Lady
Heel Pull as Man
Brush Step as Lady (Step 5 Natural Spin Turn)
Natural Pivot as Man (Step 4 Natural Spin Turn)
Pivoting Action as Lady (Step 4 Natural Spin Turn)

Quickstep Figures in more Detail


Forward Lock Step / Backward Lock Step
Quick Open Reverse Turn
Four Quick Run
Natural Turn Backward Lock Step Running Finish
Rumba Cross
Running Cross Chasse

Running time 105 min. approx.

Price £29.95 Ref: IDTA-DVDQS





---