This is an excellant DVD for ladies who would like to improve their Ballroom (and Smooth) dancing technique.

Smooth is an enhanced version of Ballroom incorporating more solo figures than traditional Ballroom and this DVD will teach you to move gracefully, spin like a dream and generally improve your individual technique and partnering skills.

It teaches about Rotation, Swing & Sway, Contra Body Movement (CBM), Contra Body Movement Position (CBMP) and gives you fun to do routines incorporating all those elements.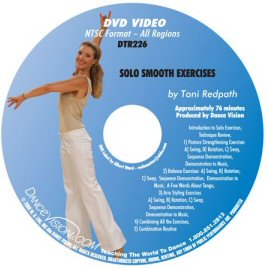 Introduction to Solo Exercises
Technique Review

Posture Strengthening Exercises
Swing
Rotation
Sway

Sequence Demonstration
Demonstration to Music

Balance Exercises
Swing
Rotation
Sway

Sequence Demonstration
Demonstration to Music
A Few Words About Tango

Arm Styling Exercises
Swing
Rotation
Sway

Sequence Demonstration
Demonstration to Music
Combining All the Exercises
Combination Routine
Running time: approx 76 min.

Toni Redpath - Solo Smooth Exercises. Price £29.95 Ref DV-DTR226