Christy and George's teaching is clear and precise and their dancing is exquisite. The instruction is completely in English and is professionally produced in an organized one-on-one format like a private lesson, making this video/DVD clear and easy to comprehend.

All figures on this videos/DVDs are demonstrated as the Leader, as the Follower and together. The stage is large enough to show complete patterns.

This collection is highly recommended for dancers taking up authentic Argentine Tango, as well as for experienced tango dancers as a refresher course.

The Sacada or "displacement" adds so many possibilities to your dance. Christy & George explain the basic Sacada technique and then take you thru many variations including Follower's and Leader's Sacadas forward and back plus 2 bonus figures consisting of many Sacadas in succession which is sure to challenge even the most experienced dancers. 17 figures in all!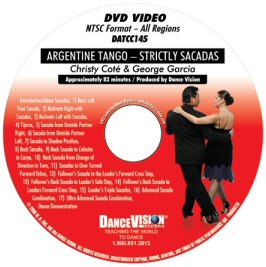 Introduction/About Sacadas
Basic Left Foot Sacada
Molinete Right with Sacadas
Molinete Left with Sacadas
Tijeras
Sacada from Outside Partner Right
Sacada from Outside Partner Left
Sacada to Shadow Position
Back Sacada
Back Sacada to Calesita in Carpa
Back Sacada from Change of Direction in Turn
Sacadas to Over Turned Forward Ochos
Follower's Sacada to the Leader's Forward Cross Step
Follower's Back Sacada to Leader's Side Step
Follower's Back Sacada to Leaders Forward Cross Step
Leader's Triple Sacadas
Advanced Sacada Combination
Ultra Advanced Sacada Combination
Dance Demonstration
Running time: Approx. 82 min.

Strictly Sacadas - Price £29.95 Ref: DV-DATCC145
---