The format of filming Blackpool Dance Festival has changed this year. Only two DVD releases are available: Professional/Amateur Ballroom and Professional/Amateur Latin.

Each release is a double DVD containing the highlights of the quarter-finals, semi-final and final in full. The Results announcement is also included.

As always Blackpool DVDs show a truly breathtaking show and spectacular outfits! Multi-camera professional footage.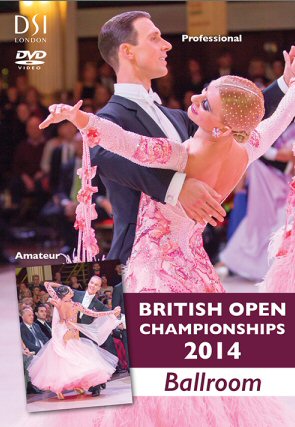 PROFESSIONAL BALLROOM
Final
Arunas Bizokas & Katusha Demidova, USA
Victor Fung & Anastasia Muravyova, USA
Andrea Ghigiarelli & Sara Andracchio, England
Domen Krapez & Monica Nigro, Slovenia
Valerio Colantoni & Yulia Spesivtseva, Russia
Chao Yang & Yiling Tan, China
Sascha Karabey & Natasha Karabey, Germany
Semi-final
Warren Boyce & Kristi Boyce, England
Marat Gimaev & Alina Basyuk, USA
Eldar Dzhafarov & Anna Sazina, Azerbaijan
Aleksandr Zhiratkov & Irina Novozhilova, Russia
Alessio Potenziani & Veronika Vlasova, Russia
Denis Kutepov & Lesya Sinitsa, USA
Artem Plakhotnyi & Inna Berlizyeva, USA
Alexandr Voskalchuk & Veronika Egorova, USA
Andrea Zaramella & Kristie Simmonds, USA
Steffen Zoglauer & Sandra Koperski, Germany
Quarter-final
Kota Shoji & Nami Shoji, Japan
Wang Jing & Hao Yuan Yuan, China
Anton Lebedev & Anna Borshch, Canada
Gustaf Lundin & Valentina Oseledko, Sweden
Mikhail Avdeev & Olga Blinova, USA
Wiktor Kiszka & Maria Mitrokhina, Poland
Wei Ping Li & Cen Zheng, China
Stanislav Zelianin & Irina Cherepanova, Russia
Gaetano Iavarone & Emanuela Napolitano, Italy
Andrey Begunov & Anna Demidova, USA
Marcin Kalitowski & Katarzyna Florczuk, Poland
Pawel Switalski & Paulina Janicka, Italy
AMATEUR BALLROOM
Final
Marek Kosaty & Paulina Glazik, Poland
Chong He & Jing Shan, China
Sergiu Rusu & Dorota Makar, Poland
Andrzej Sadecki & Karina Nawrot, Poland
Dusan Dragovic & Greta Laurinaityte, England
Lukasz Tomczak & Aleksandra Jurczak, Poland
Semi-final
Diego Arias Prado & Ekaterina Ermolina, Russia
Fedor Isaev & Anna Zudilina, Russia
Alex Freyr Gunnarsson & Liis End, England
Jacek Jeschke & Valeriya Agikyan, Poland
Andrey Sirbu & Alexandra Hixson, England
Jack Beale & Natalia Siyanko, England
Quarter-final
Stanislav Portanenko & Nataliya Kolyada, Ukraine
Maciej Kadlubowski & Maja Kopacz, Poland
Oskar Wojciechowski & Karolina Holody, USA
Jianan Peng & Jia Ci Zhong, China
Andres End & Veronika End, USA
Si Cheng Li & Zhou Man Ni, China
Anton Nedotsukov & Izabela Skierska, Poland
Vladimir Rudko & Mariia Hirvonen, Finland
Stephen Arnold & Yasmin Priestnall, England
Szymon Kalinowski & Grazyna Grabicka, Poland
Edmund Ault & A Reum Han, England
Mai Jia Cheng & Yin Xue Qin, China


The DVDs are multi-region and are compatible with PAL and NTSC systems.

Price £41.95 excl.VAT