The format of filming Blackpool Dance Festival has returned to the traditional one, meaning only Open Amateur and Professional Ballroom and Latin events are released on DVDs.

Each of the four releases is a double DVD containing the highlights of the 2nd round and 3rd round plus 4th round, semi-final and final in full. The Results announcement is also included.

As always Blackpool DVDs show a truly breathtaking show and spectacular outfits! Multi-camera professional footage. Analysis and commentary from Camilla Dallerup, Martin Cutler and Richard Miller.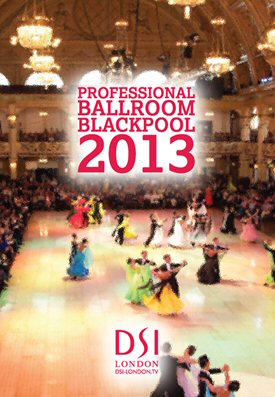 Final
Arunas Bizokas & Katusha Demidova, USA
Victor Fung & Anastasia Muravyova, USA
Andrea Ghigiarelli & Sara Andracchio, England
Domen Krapez & Monica Nigro, Slovenia
Valerio Colantoni & Yulia Spesivtseva, Russia
Sascha Karabey & Natasha Karabey, Germany
Chao Yang & Yiling Tan, China
Semi-final
Marat Gimaev & Alina Basyuk, USA
Warren Boyce & Kristi Boyce, England
Mikhail Avdeev & Olga Blinova, USA
Alessio Potenziani & Veronika Vlasova, Russia
Aleksandr Zhiratkov & Irina Novozhilova, Hong Kong
Artem Plakhotnyi & Inna Berlizyeva, USA
Quarter-final
Andrey Klinchik & Yulia Klinchik, USA
Matthew Rooke & Jelena Samuilova, Australia
Kota Shoji & Nami Shoji, Japan
Eldar Dzhafarov & Anna Sazina, Azerbaijan
Anton Lebedev & Anna Borshch, Canada
Andrea Zaramella & Kristie Simmonds, USA
Craig Shaw & Evgeniya Sutyaginskaya, England
Alexandr Voskalchuk & Veronika Egorova, USA
Gustaf Lundin & Valentina Oseledko, Sweden
Steffen Zoglauer & Sandra Koperski, Germany
Wang Jing & Hao Yuan Yuan, China
Go Hashimoto & Keiko Onda, Japan
Andrey Begunov & Anna Demidova, USA
Pawel Switalski & Paulina Janicka, Italy
The Professional Ballroom DVDs show also the highlights of the 2nd round, 3rd round and 4th round.

The DVDs are multi-region and are compatible with PAL and NTSC systems.

Price £41.95 excl.VAT