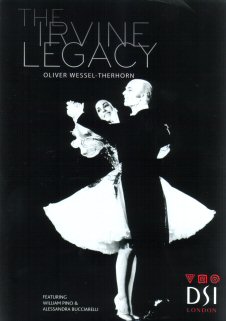 When we took this double disk DVD for evaluation we expected something like a celebration of Bill and Bobbie Irvine's memory. But the reality proved much more and much better than that! This is an extremely educational DVD, to posess the knowledge contained here you would have to take at least 20 private lessons with Bill or Bobbie! Now you can have it all for an equivalent of about one private lesson with one of them.

On Disc 1 Oliver, who himself took hundreds of lessons with Bill and Bobbie, takes you through all the original principles of Bill and Bobbie's teachings. William and Alessandra will then demonstrate all the discussed movements. It is like having a series of private lessons with Bill and Bobbie. You will learn the principles of Ballroom dancing that made the Irvines 13 times World Champions and have withstand the test of time till now.

1. Stand Straight
Changes to your daily stance to achieve a good dancing position
Muscular chain from the big toe to the collar bone
Achieve lady's beautiful back line through relaxing rather then stretching
2. Let's get into position
Distance between partners feet
How to pick up your arms
Use your hands to give the lady a sense of position and direction
Two elipses within the hold. Do you stay within yours?
3. Any good with your feet
Dancing has developed from walking. Do we fully understand how we walk?
Outside partner steps
No feet no flight. Why?
4. A Continuous Up & Down
How to produce a static energy within our legs and release it as a kinetic energy
Three levels for legs and feet and when we make exceptions
Swing rise, Pressure rise and Body rise. When do we use them
Commence rising at the end of 1, but where is the end of 1?
5. Round & Round
Differences between Natural turns and Reverse turns
Open turns
Spin turns: overturned and underturned
Pivots
How to recognise CBM from artificial CBM
6. We Sway
Difference between Waltz sway and Foxtrot sway
Broken sway
Sway towards moving direction
Swing + Sway = Shape
7. Promenades & Follaways
How to create a big impact by doing nothing
How to exit PP
Fallaway whisk: Is it really what the name says?
8. Specific Tricks and Trips
Waltz:
What is pendulum swing?
Lower to measure
Progressive chasee - common errors
Outside spin
Fallaway slip pivot: Use 2p coin to learn the correct technique
Foxtrot:
QQS vs. SQQ
Step - Swing - Drift
Anchoring - when and why
Feather finish - the common error
Feather finish vs. Weave ending
Viennese Waltz:
Natural turns - the common error
Reverse turn - to sway or not to sway?
Fleckerl vs. Overturned Reverse Turn
Contra check - Is it a line step?
Quickstep:
Chasses and Scatter chasses - To close or not close your feet?
Bounced movements
Exercise with an elastic band around your tights and a glass of water
9. Made in Argentina (Tango)
Four differences in the hold between Tango and other dances
Tango walk - 3 differences between Tango and other dances
PP and how to lead it
Progressive link
Closed promenade: Prepare - Strike - Flick - Close
Monumental stillness
10. Lead & communication
How to initiate moving forward or back
How to lead the lady to step outside
Playing with the lady's reaction time for effect
On Disc 2 you there is an archived footage of Bill and Bobbie in action in four dances. Two dances are with sound and two without. This is followed by Bill's last lecture at the BDF Congress in Blackpool in 2006 on the evolution of Waltz and Foxtrot.

Running time: 3 hrs. approx.

There is also a book The Irvine Legacy containing fundamentally the same material as the DVD, but in our opinion the DVD is a much better way presenting this material and if you have the DVD you do not need the book.


Ref: DSI-7036 Price £85.95