The semi-finals and finals of UK Open Dance Championships, which took place in Bournemouth, England in Jan 2011. Cha-cha, Samba, Rumba, Paso-doble and Jive.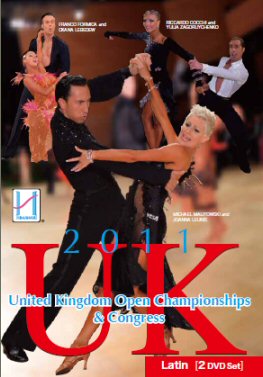 UK Open Amateur Latin Championship

Semi-final

Ferdinando Iannaccone & Yulia Musikhina, Germany
Mirco Risi & Maria Ermatchkova, Italy
Dorin Frecautanu & Victoria Burke, England
Arkady Bakenov & Rosa Filippello, Australia
Nikita Bazev & Marta Arndt, Germany
Vjaceslavs Visnakovs & Tereza Kizlo, Latvia
Final

5. Jurij Batagelj & Jagoda Strukelj, Slovenia
204. Neil Jones & Ekaterina Sokolova, England
150. Valentin Chmerkovskiy & Daria Chesnokova, USA
111. Martino Zanibellato & Michele Abildtrup, Denmark
33. Troels Bager & Ina Jeliazkova, Denmark
123. Kirill Belorlikov & Elvira Skrylnikova, Russia
UK Open Professional Latin Championship

Semi-final

102. Maurizio Vescovo & Andra Vaidilaite, Canada
162. Markus Homm & Ksenia Kasper, Germany
175. Evgeni Smagin & Polina Kazatchenko, Russia
35. Joshua Keefe & Sara Magnanelli, Italy
198. Andrei Mosejcuk & Kamila Kajak, Poland
26. Lu Ning & Jasmine Ding Fang Zhang, China
Final

3. Michael Malitowski & Joanna Leunis, Poland
200. Riccardo Cocchi & Yulia Zagoruychenko, USA
73. Franco Formica & Oxana Lebedew, Germany
140. Sergey Sourkov & Melia, Russia
94. Andrej Skufca & Melinda, Slovenia
49. Stefano di Filippo & Olga Urumova, Italy
Additionally the DVD includes the coverage of UK Congress 2011 with 3 lectures
Gary McDonald - Who stole the Passion Where has the warmth, romance and character in the Ballroom dancing gone? All have gone under the name of "sport"? With ballroom and latin couples Gary shows some of the styling that he considers ridulous.
Paul Killick - Characterization of Paso Doble Paul shows a piece of choreography on the stage together with Shirley Ballas. He is a strong believer that it should depict a bullfighting which is "live or die" for the matador and even for the bull.
An Audience with Bryan Watson and Carmen Bryan and Carmen look back their history of dancing as individuals and as a couple.


Ref: 11UKL Price £14.95