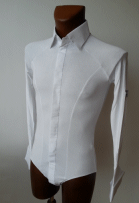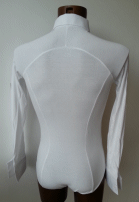 EL-PSHIRT1
Ballroom/Latin Practice Shirt in Stretch crepe, White £59.00 excl.VAT

Comfortable, stretchy and body friendly crepe make this shirt a success. For even better fit the shirt is made in 3 different lengths for shorter, medium and taller men. Machine washable.

This shirt is great for Small / Medium body frames, but we do not recommend it for Large / Xtra Large bodies. For those sizes consider our E-MS041 Practice shirt White which is very similar, but bigger in the body.