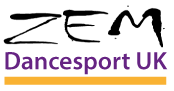 Real stories:

Lose two stone before you compete Jan 2003
When everybody's telling you're not good enough Dec 2002
Joelle's story Nov 2001
Curved spines Aug 2001
Small minds Jan 2001


---
In the dance world all eyes are normally on those glamorous couples who win competitions under the spotlight. But in real life dancing is about dealing with other people (your partner), overcoming your physical weaknesses, dealing with financial problems, coping with long-distance commuting and all sorts of other obstructions on your way.

In this column we will be publishing real stories from real people. We are not too interested in what you achieved. We want to know how you achieved that and was/is your price to pay. We want to know your Blood, Sweat and Tears story, because life is not really all about glamour...

Send your story to webmaster@zem.co.uk

We can't guarantee that all stories will be published here, but each one will be read and given a thorough attention.